2008 Swap Meet Is still in the construction Stages Please contact us if you need any info we will do the best we can to get this organized ASAP

The Rubicon Rock Heads would like to invite the off road community to our 2nd annual RRH 4X4 Swap Meet And Tri-Tip Cook Off!
Saturday & Sunday
October 18th & 19th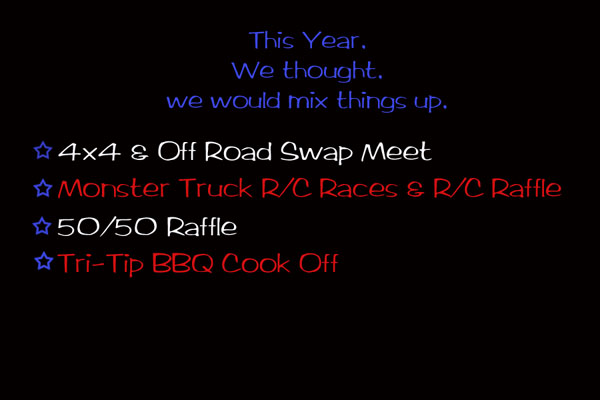 Pancake Breakfast Sunday Morning
8am to 10am!




Things To Bring...
Parts, Tools or anything 4x4 you don't want to trip over anymore.
table to display your wares
chairs
easy up
change to make sales easy
pictures of large items, with a price and contact info
warm clothes ( its October in the mountains)
wallet
ID for the bar if you look young (Kurt)
Donations and camping gear
PLUS WE HAVE WIRELESS INTERNET~ YOU MAY WANT TO BRING A LAPTOP FOR USE OF PAYPAL FOR LARGE PURCHASES OR SALES!
Hosted by Robb's Valley Resort.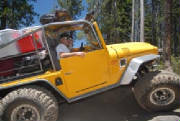 22 miles north of Highway 50 on Ice House Road, 1/4th of a mile north of Cheesecamp Road
14216 Ice House Road
Pollack Pines, CA 95728






Bring up ANY bits & pieces you have laying around new or used.
Examples: tires, engines, springs, axles, seats, tools, or whatever!
Sell or trade them for what you need for your winter build or upgrades!
Parts Too big to bring? Take a photo & post it on Robb's "for sale wall"

Get your friends together, a booth will require a $20 donation that will
prevent shit from happening and help with sanitation issues on our trails
Get a FREE campsite provided by Robb's Valley Resort with your booth donation.

Robb's Valley Resort provides great accomidations, Besides the General Store, Restaurant, and Full Bar, we also offer
Cabins
Showers
Real Bathrooms!!
Boat Rentals
We can take Credit Cards
Wireless Internet access